Articles written by individuals from the Church of Christ
Leadership is one of the most popular and most talked about topics in the church today. Just go to your local Bible bookstore and notice the many works of literature on Leadership in the church. One of the biggest problems is many times the authors of these books make comparisons of being a leader in the church as the same as being a leader in the business world. Instead, we really ought to look to the Bible for the proper leadership examples such as Moses, Joshua, David and the best leader of them all Jesus Christ. As a leader,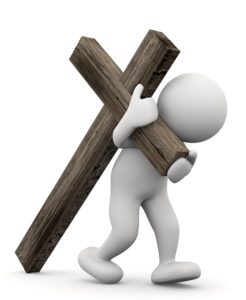 Jesus said it best in Luke 9:23 And He was saying to them all, "If anyone wishes to come after Me, he must deny himself, and take up his cross daily and follow Me. The best leaders do not say "Come here get beside me and on we will go," but they say as Christ did, "I am going this way, the way the Lord wants for me to go and you can follow." You cannot make people follow, but you can set the example you need to be, and let them decide to follow.
To demonstrate the art of leadership put a piece of string on a table, pull it, and it will follow wherever you wish. However, if you push it, it will go nowhere at all. It is the same way when it comes to leading people. They need to follow a person who is leading by example. 1 Corinthians 11:1 Be imitators of me, just as I also am of Christ. Paul states that we should follow a godly man simply because he is following Christ. Godly leaders will never make it about themselves they will always keep the work about the Lord.
Remember, leaders do not push they just go and do their job and do it with the glory of the Lord in mind. So, if you want to be a leader, do not just say follow me, just do what needs to be done and others will follow. The best leader is the one that is the best servant for the Lord. Do not forget we are trying to get people to follow the Lord and not ourselves. So, in a nut-shell, if you want to be a leader, start by being a strong and faithful servant.
---
Hebrews 13:1-2 Let love of the brethren continue. Do not neglect to show hospitality to strangers, for by this some have entertained angels without knowing it.
The Hebrew writer begins by saying that the love of the brethren needs to continue. When I read this verse, the first thing that comes to mind is that for brotherly love to continue it first must exist. Hospitality is one of the lost arts of the Christian Age. The need for help that was necessary in the early days of the church may not be the same today, but at least the thought should still be there. We need to understand that the opportunities for hospitality may have changed but the need for it still very much exists.

Anyone with Bible knowledge remembers the lesson in the book of Genesis where the three men came to the door of Abraham's tent. Some of the key phrases found in that passage reads as follows: Abraham hurried, Sarah quickly prepared, Abraham ran to the herd, he gave, he prepared. These phrases all make reference to their effort to please someone with their hospitality. How many times do we look for the opportunity to serve someone else? I think our Lord and Savior said it best and set the supreme example of hospitality in Mark 10:45 "For even the Son of Man did not come to be served, but to serve, and to give His life a ransom for many." Now that is getting to the point!
Have you ever thought, "Well, I'm too good to help that person" or perhaps, "Why should I help that person?" We may not actually bring these phrases to our tongues but in our minds we are shouting these thoughts from the mountaintops. We can say that we care and we want to help, but be honest, ask yourself, "What have I done lately?" Scriptures tell us to show hospitality to strangers, but we even have a hard time expressing it to those that we see on a regular basis. The Bible says that by showing hospitality to strangers some have entertained angels without even knowing it.
Hospitality is a little bit of a selfish act. You are thinking what is he talking about? What I am trying to say is that by not being hospitable we are in fact robbing ourselves of a blessing. Not only can we help those in need, but the one showing hospitality actually feels better about themselves. In fact, we then fulfill another passage of scripture that tells us to bear one another's burdens. Try helping someone you know and also help someone you do not know. Remember angels do not always appear as we think they should, many times they appear just as ordinary people we could serve if we only had the mind to be hospitable.
---