Our History
The Church of Christ at Harlan came into existence through the help of two other Churches of Christ. The first being the West Jefferson Street Church of Christ in Ft. Wayne, IN and the second the Hicksville, Ohio Church of Christ, in 1902. In the early 1900's G.G. Wilson moved his family to Harlan from West Milford, Ohio to help begin the work of the Harlan Church of Christ. The first congregation of the Harlan Church of Christ consisted of approximately 40 to 50 persons. The first meetings of the Church of Christ in the early 1900's were held in the old I.O.O.F. Hall.
Mr. G.G. Wilson and his
Sunday School Class, 1900's 1927 Congregational Picture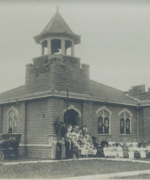 1929 Re-build after fire destroyed
the previous building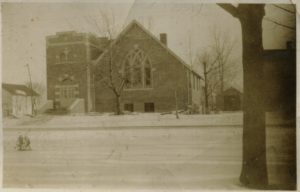 The Church at Harlan, growing in number, built their own building. The original building was destroyed by fire on January 1, 1928. The group then built the now current building and moved into it on February 10, 1929. The building has been added on to and a school building now resides adjacent to the meeting house. As of this time the congregation meets in the mult-puprose portion of the new building.
1992 Addition on the building 2012 Current Building